Wolf Trap National Park for the Performing Arts is the only national park dedicated to the performing arts. Pretty cool. In a unique fusion of arts and nature, the National Park Service manages 117 acres of park, grounds, and buildings, while the Wolf Trap Foundation oversees programming that serves 100,000 adults and children each year.
With a mission to present and create excellent and innovative performing arts programs for the enrichment, education, and enjoyment of diverse audiences and participants, Wolf Trap creates spaces of inclusivity and creativity. Wolf Trap's calendar of events aims to connect with audiences from all backgrounds, abilities, and experiences, while its educational opportunities for kids, adults, and teachers work to ensure performing arts lives on.
We have seen this commitment in action through our personal experiences at Wolf Trap's Filene Center venue.

Our Experiences at Wolf Trap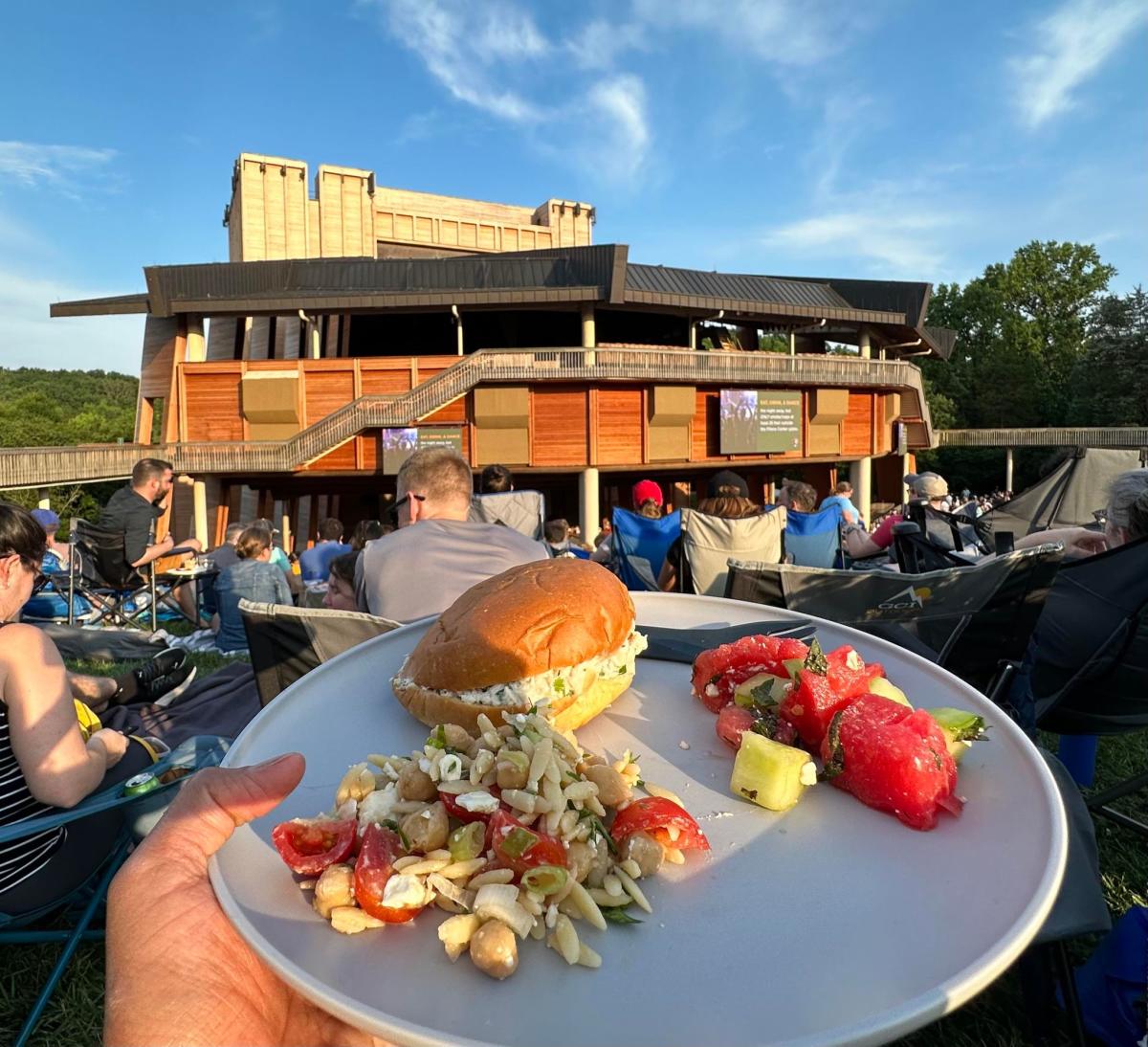 The Filene Center, the summer performance outdoor amphitheater, is covered with open sides, embracing its setting in nature. With over 7,000 seats, it is a mix of covered, reserved seating, and lawn seating for general admission.
Jurassic Park in Concert with the National Symphony Orchestra: This was our first visit to Wolf Trap, and we decided to play it safe by purchasing one wheelchair seat and one companion seat in the covered, assigned seating section. Food isn't allowed in this section, so we ate dinner beforehand and purchased Wolf Trap drinks that we could take with us to our seats.
 
Goo Goo Dolls: We wanted to try the lawn and picnic experience this go-round, so we bought general admission tickets for the lawn. This experience was very different from our first visit ... in a good way! It was fun to pack a picnic and made for a great summer date night. One downside was that it did rain, so we got wet. So, pro tip: watch the weather and dress accordingly!
 
Star Wars in Concert with the National Symphony Orchestra: This was our most recent visit and we did the lawn experience again. While we prefer the lawn, this event was very popular and it was packed. It was challenging finding a good seating spot. Pro tip: Wear bug spray on warm, muggy summer nights.
For each of these visits, Abe left his wheelchair in the car and walked. Because everything is within a short distance and easily accessible, this was possible for him to do.

Notes on Accessibility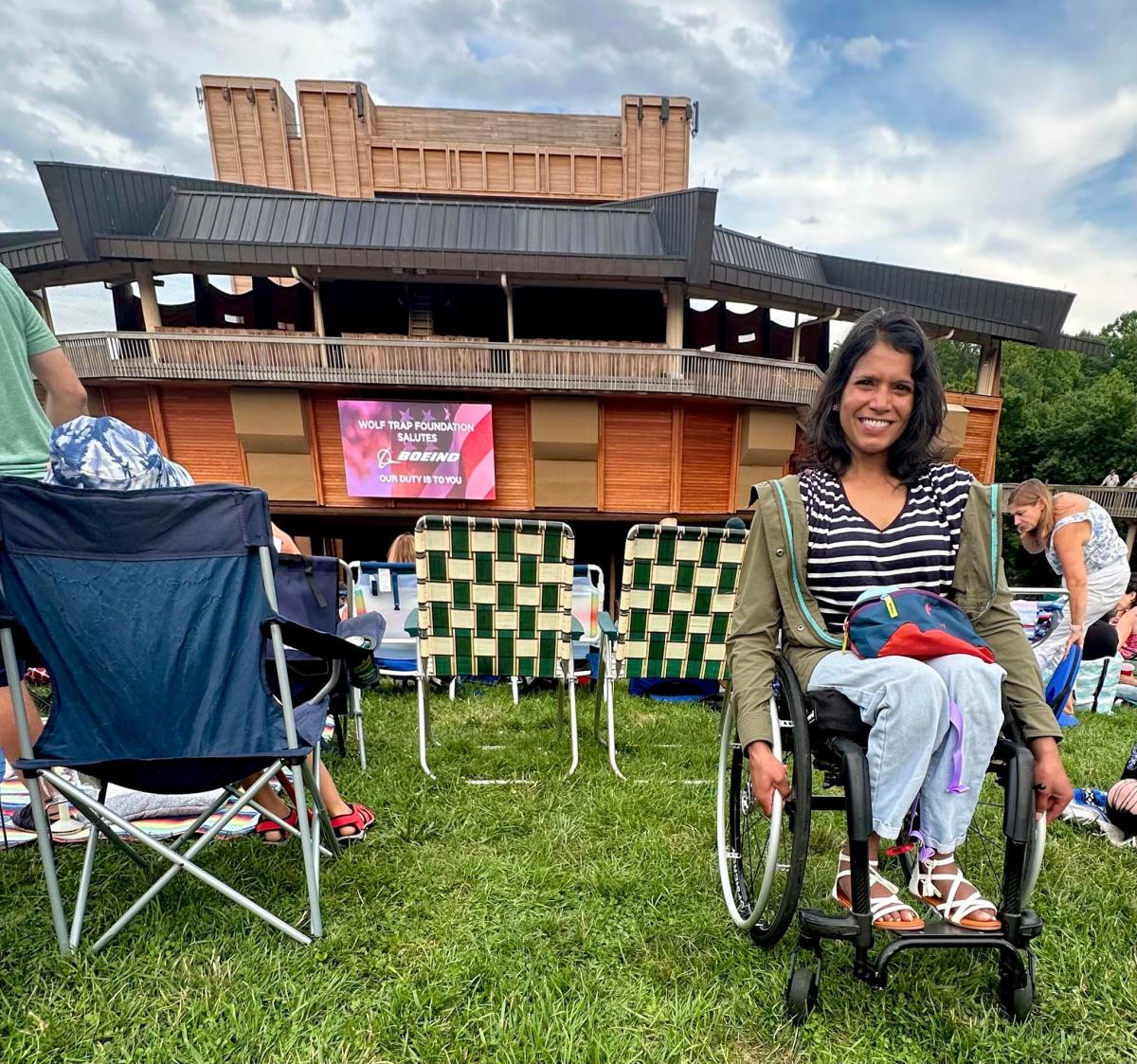 Seating: There are two options: covered assigned seating and the lawn section. Here are a few of our takeaways from each seating option. Hopefully, these help you decide which may be right for you.

Covered seating: Here, you can select accessible or general seats, and it offers some protection from the weather with easier access in and out should you need to leave for anything. However, you can only take Wolf Trap's own covered drinks to your seats.
Lawn seating: This seating is open, so you'll want to arrive early to get your desired spot. The lawn is sloped with stairs for access in a select few areas. We've found that sitting right at the top of the lawn, along the paved plaza area, is best for us. Since the lawn can fill up fast and gets packed, it also assures that we can quickly move if we have to without getting boxed in by picnic blankets and chairs.
 

Captions: For movie showings, there are multiple screens with captions running on all of them.
 
Sign Language Interpretation: Sign language interpretation can be arranged by calling 703.255.1849 or emailing patronservices@wolftrap.org. A minimum of 1-week advance notice is required.
 
Parking: Parking is free. Have your accessible parking placard visible, and you will be directed to accessible parking close to the ticket entrance. If you are a wheelchair user, tell a parking attendant and they will direct you right to the front of the accessible spots if they're still available.
 
Ticketing/Entering: On each visit, we were directed to wait by the box office at the front entrance by security, versus having to wait in any entrance lines. This was extremely helpful and appreciated.
 
Bathrooms: There are ample restrooms with accessible stalls located in the plaza area.
 

Wolf Trap's website has extensive information on accessibility for all its venues, including the Filene Center, The Barns at Wolf Trap, and Children's Theatre In-The-Woods. Wolf Trap is a unique experience only found in Fairfax County, and we're always checking the calendar of events to see when we might visit again!
*This guest blog is the result of a collaboration with www.photoswithaspin.com. Check out Abe & Maggie's suggestion for an accessible weekend getaway in Fairfax County. This includes The Winery at Bull Run, Meadowlark Botanical Gardens, Great Falls Park, George Washington's Mount Vernon, Smithsonian's National Air and Space Museum Steven F. Udvar-Hazy Center, and the National Museum of the United States Army.*