Sunsets are kind of my thing. I go out for sunset nearly every night at my home. I can see west from an elevated spot on my front stoop. But I can also go in the backyard and watch the colors the sunset brings to the eastern and southern skies. Either way, sundown never disappoints.
I've come up with 6 tried-and-true tips for catching the best sunsets:
Choose an elevated, wide-open spot (like a parking garage) where you can see toward the horizon, or…
Find a spot along the water where trees are small on the horizon and the sunset can reflect
Face west if you can
Choose a night with partly cloudy skies for the most scenic sunsets
Stay until the sunset is fully over. There are often more spectacular skies "after the sunset"
Keep in mind that many of the places listed below are parks and parks close at dark. You can watch the sunset, but you can't linger. 
Here's a rundown of the best Fairfax sunset views in Northern Virginia's Fairfax County:
Potomac Banks/South Fairfax County Sunsets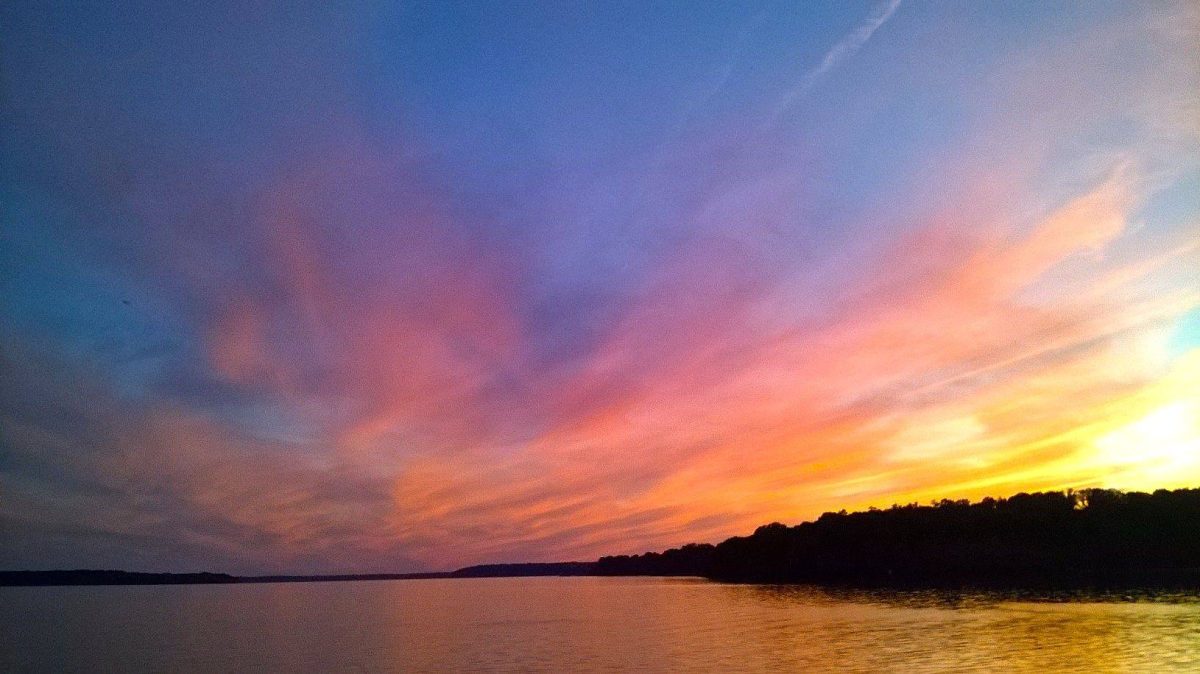 Riverside Park, courtesy Tierney Sadler

As its name suggests, the Potomac Banks region of Fairfax County is set along the Potomac River in the east and the Occoquan River in the south. The shorelines of these rivers go through twists and turns and have peninsulas that offer great westerly sunset views.
By far, the #1 spot recommended by Potomac Banks residents is Riverside Park in Alexandria. Personally, I declare it the best sunset in all of Fairfax County. Riverside Park is the first park along the George Washington Memorial Parkway north of Mount Vernon. It's set after a turn in the river and offers generous western views.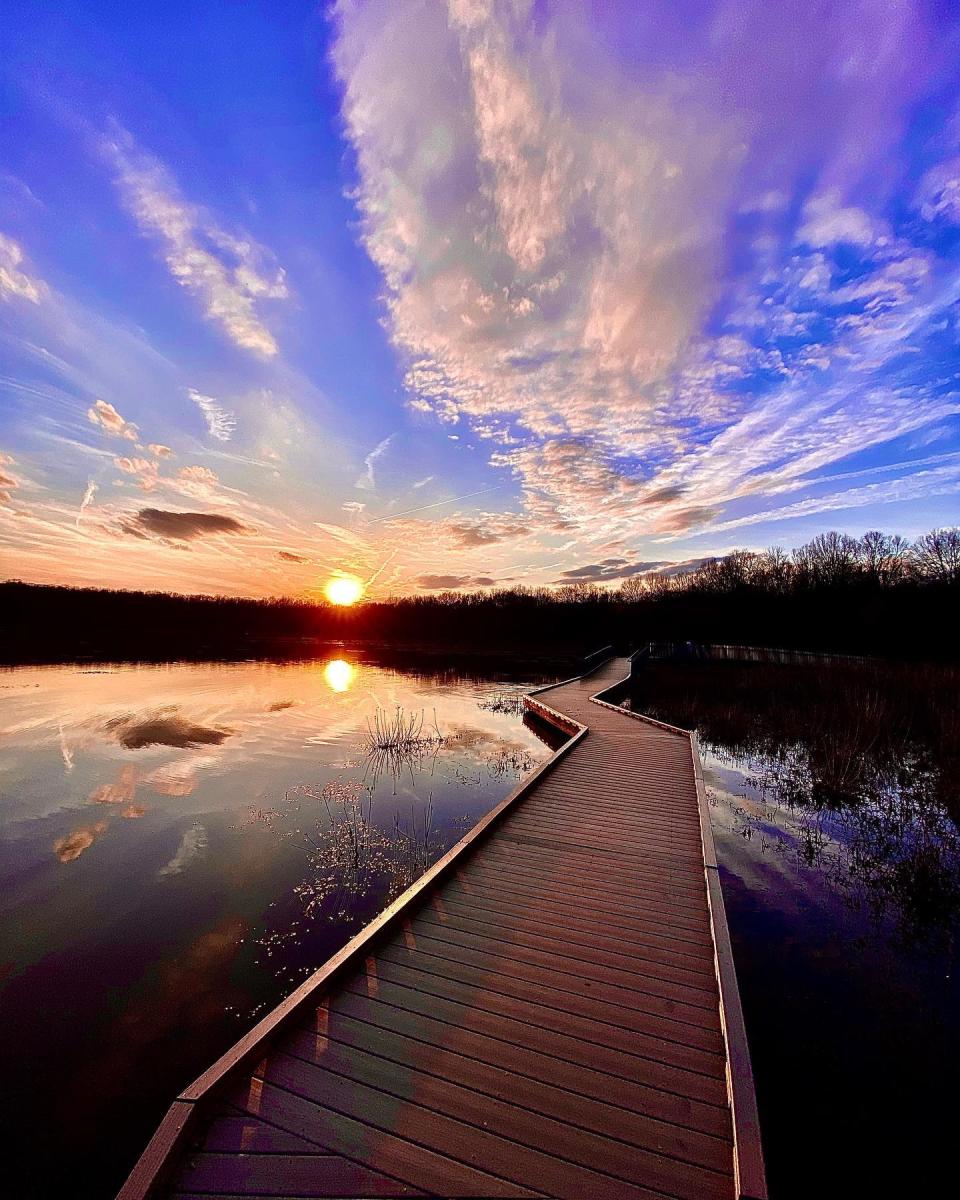 Huntley Meadows, courtesy IG user @est__73

Further north along the GW Parkway in Alexandria are Belle Haven Marina and Dyke Marsh. The Dyke Marsh trail leads you about a mile out to a vantage point in the middle of the river. You'll want to start heading back just after the sun slips below your view to make it out of the park by dark. Nearby, Huntley Meadows is a bird sanctuary in wetlands with a boardwalk. Sunsets here may happen close to a treeline, but they are gorgeous and a bonus is that you'll get to see some unique wildlife, too.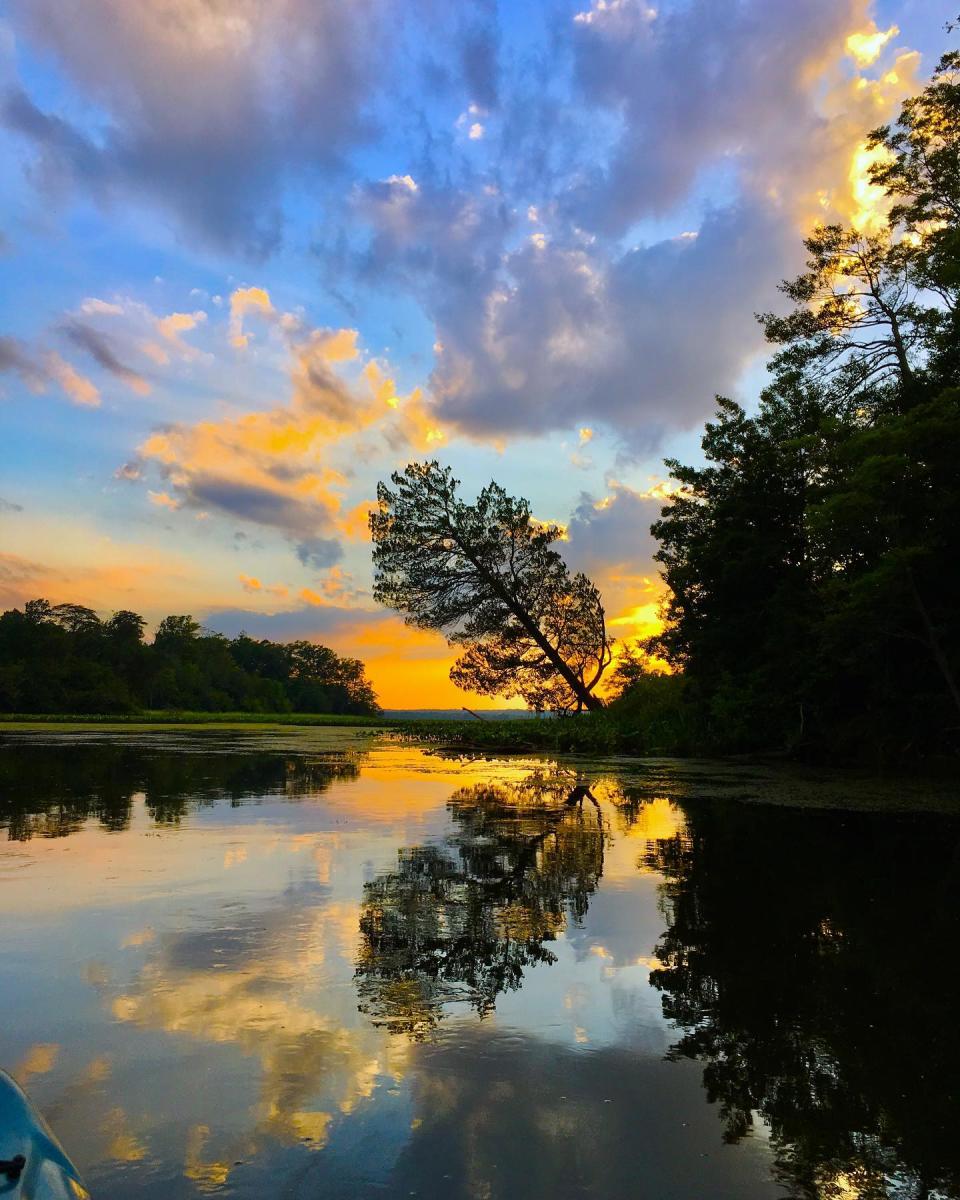 Mason Neck State Park, courtesy IG user @est__73

Moving south along the Potomac and into Lorton, Mason Neck State Park sits on a peninsula with great westerly views. This eagle, heron, and wildlife refuge offers boat rentals for return in the afternoon, but the park hosts regular evening paddle adventures through mid-October. Nearby, you'll find the Workhouse Arts Center with its large campus offering nice sunset views. Also nearby is Occoquan Regional Park on the Occoquan River with fabulous westerly views throughout.
 

Central Fairfax County Sunsets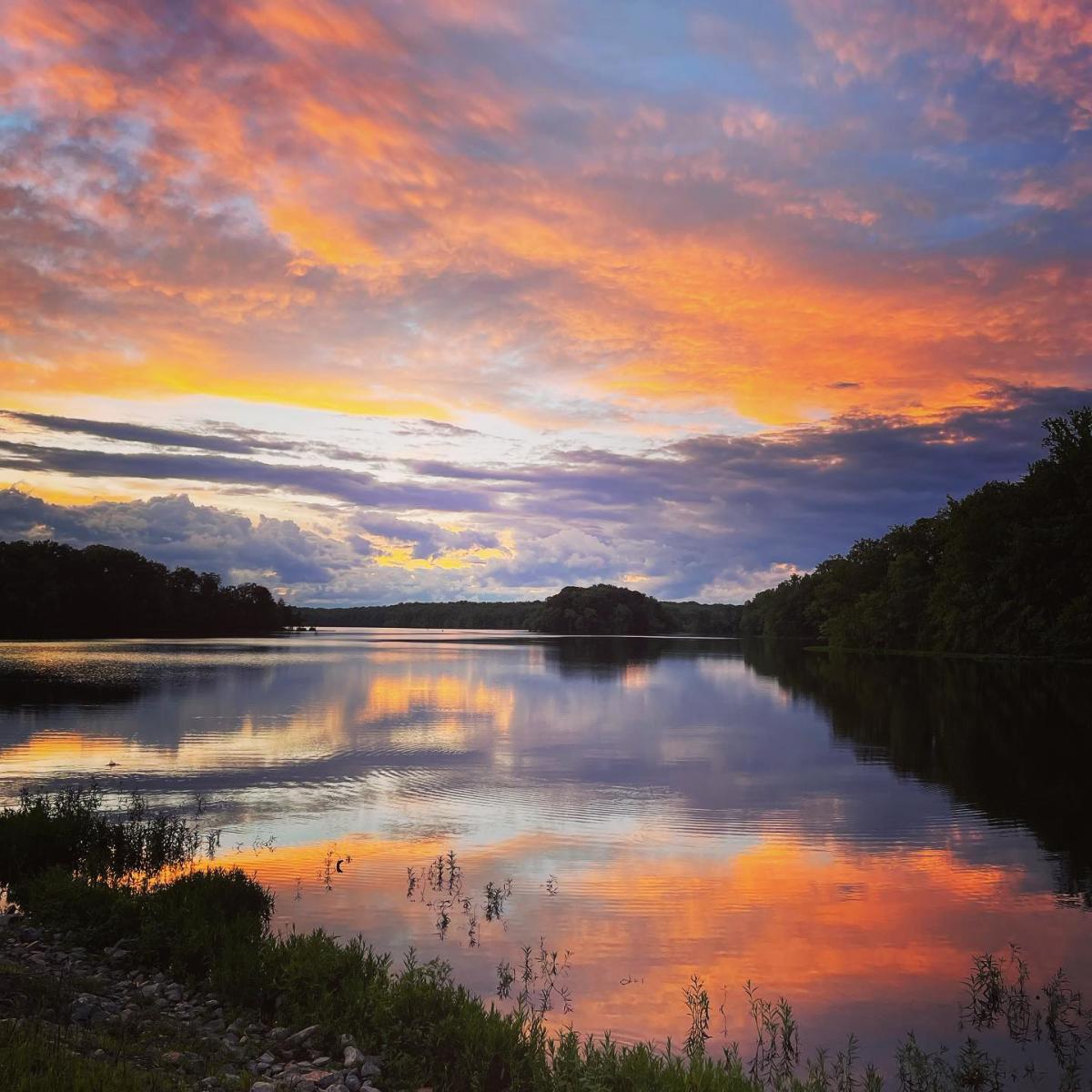 Burke Lake Park, courtesy IG user @cricketbelle1

In the central part of the county, you'll find a lot of lakes. Lakes are great because there is always a western view over water. Though impossible to declare a clear winner in this part of the county, I'll start with Burke Lake Park. It's the largest lake in the county for sweeping sunset views. And, like Lake Accotink and Lake Mercer in Springfield, it has a circumferential path to position you perfectly for the show. Another water-borne spot in Central County is Fountainhead Regional Park with many a western view over the Occoquan River.
 

Wolf Trap, courtesy IG user @natejacksonphoto

Lakes and rivers aren't the only places with great sunset views, though. Big open spaces like Wolf Trap National Park for the Performing Arts are good too. In fact, Wolf Trap not only has great sunsets from the lawn, but you get to watch them while listening to top musical acts perform in the summer.
Two more wide open spaces are Manassas National Battlefield Park and the adjacent Winery at Bull Run. Both spots set you up for spectacular colors, sweeping views, and historic relevance.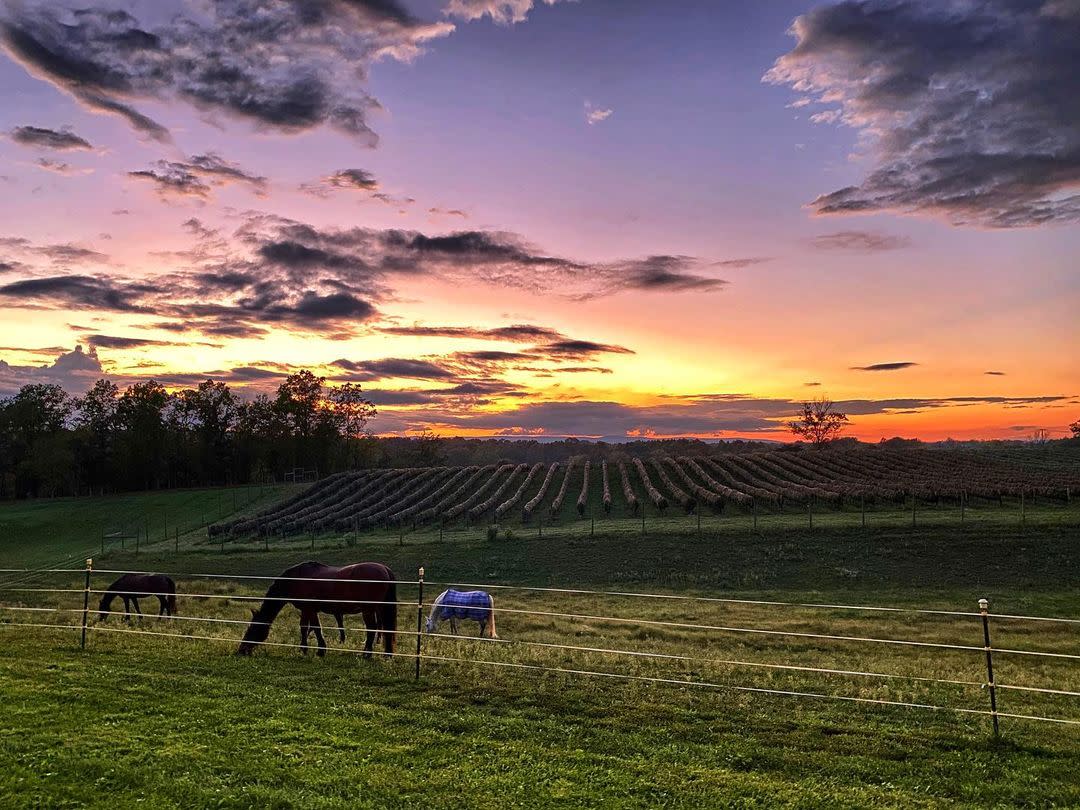 The Winery at Bull Run, courtesy IG user @photobugadventures

Finally, the campus at George Mason University offers stunning sunsets. Go to Wilkins Plaza for a wide-open vista.

Northwest Fairfax County Sunsets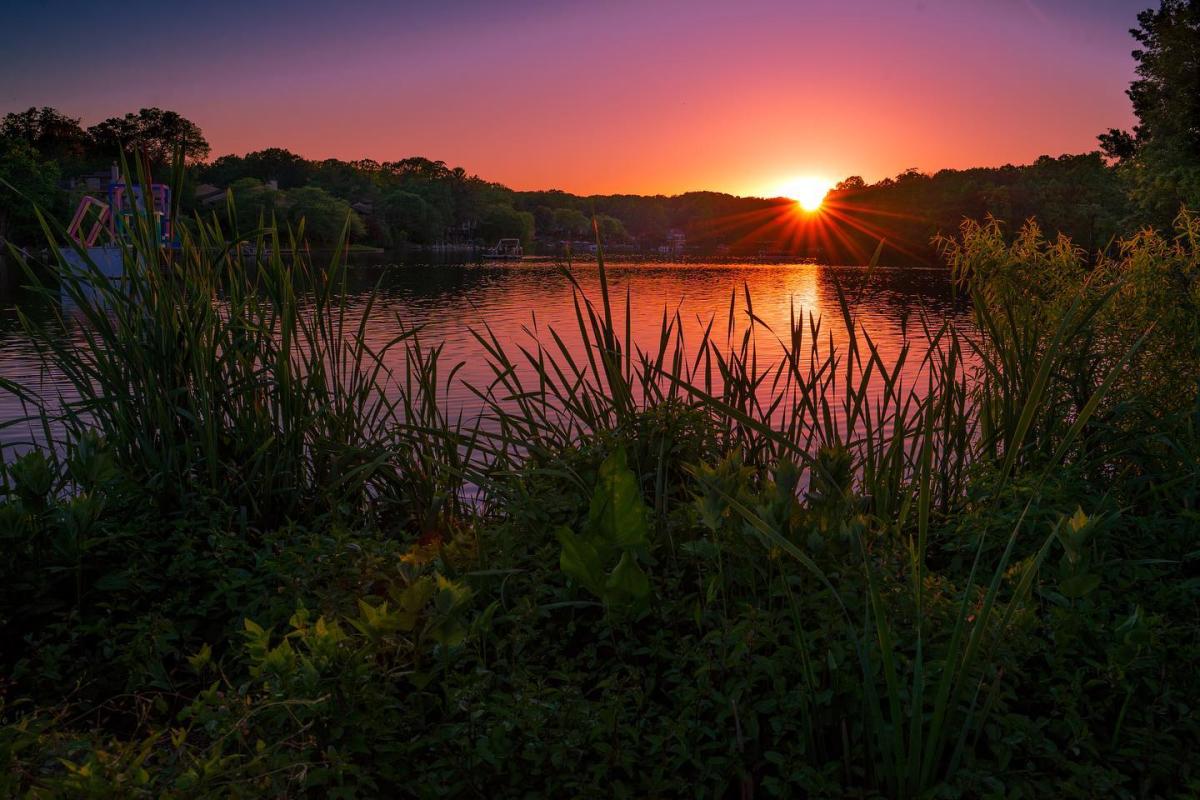 Lake Thoreau, courtesy IG user @traversingva

In the northern part of the county, Lake Thoreau in Reston comes highly recommended in a town full of popular lakes. To increase the appeal of a Lake Thoreau sunset, Cafesano and Red's Table in the South Lakes Village Shopping Center are both restaurants with a view.
Also in Reston, Lake Fairfax Park has a circumferential loop where you can catch the sunset. While this area of the county has fewer traditional sunset spots, it has a very healthy supply of unusual places to watch.


Unusual places to see the sunset in Fairfax County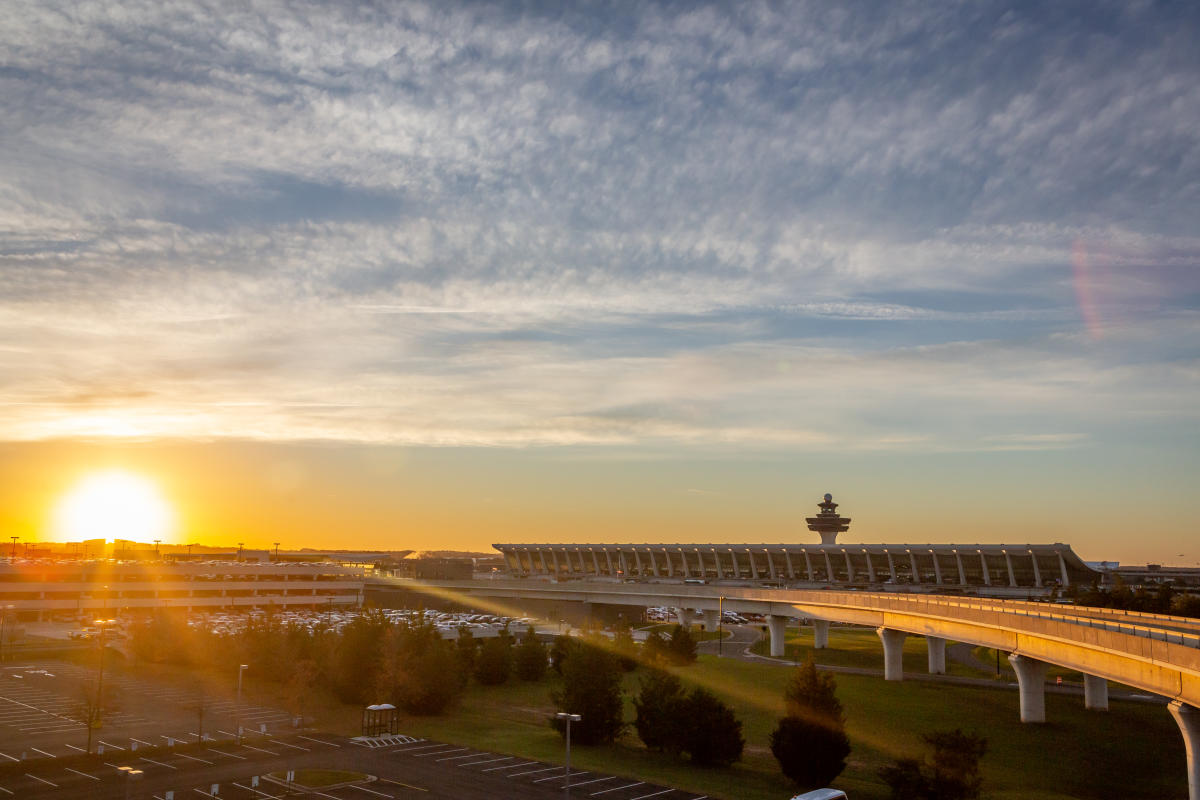 Dulles International Airport, courtesy MWAA

Buckle up for some of the more avant-garde sunset spots in Fairfax County! The Perch at Capital One Center is an urban park 11 stories in the sky in Tysons. With mini golf, food trucks, a Biergarten, and Wren, a posh restaurant, it would be hard to find a more unique spot at dusk. Unless you go to the Devereaux Station in Clifton where the tracks head toward the evening sun. Lots of restaurants and points of interest in this tiny, bucolic town.
If you want western exposure and plenty of open space, Dulles International Airport makes a great vantage point. Schedule your flights for sunset or take the Metro out there to see the sun make its departure. Speaking of the Metro, the Silver Line trains go above ground at East Falls Church Metro and stay above ground for 11 stations heading west.
Best places to BE at sunset in Fairfax County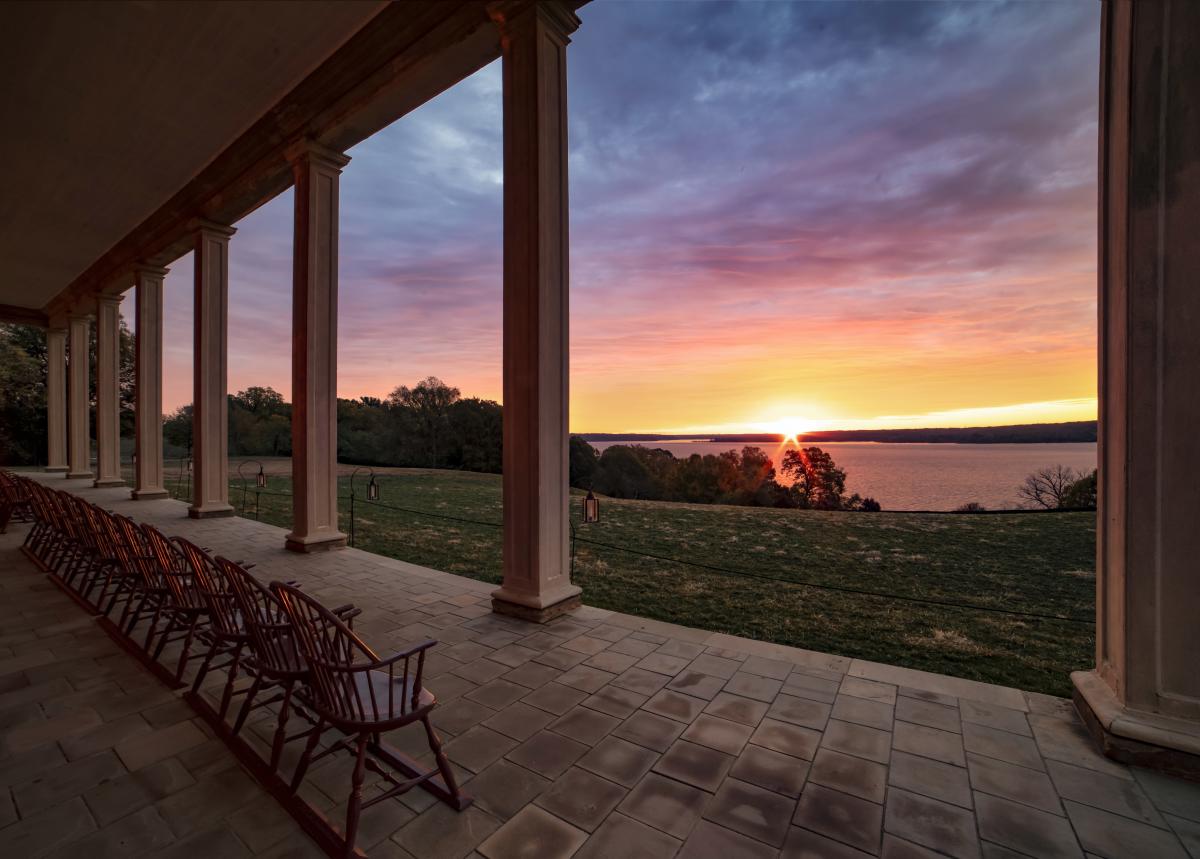 George Washington's Mount Vernon, courtesy Mount Vernon

Not every dusk destination has a clear shot of the setting sun. But that doesn't mean you can't still get spectacular skies to the north, south, and east. And that's what makes the following spots so unique.
For me, it's a tie as to where the best place to be is at sunset. It's between George Washington's Mount Vernon with its vast acreage and stunning eastern views across the Potomac River, and Great Falls Park with its roaring waterfall and northern exposure. They are on opposite sides of the county, but both will wrap you in a sunset glow.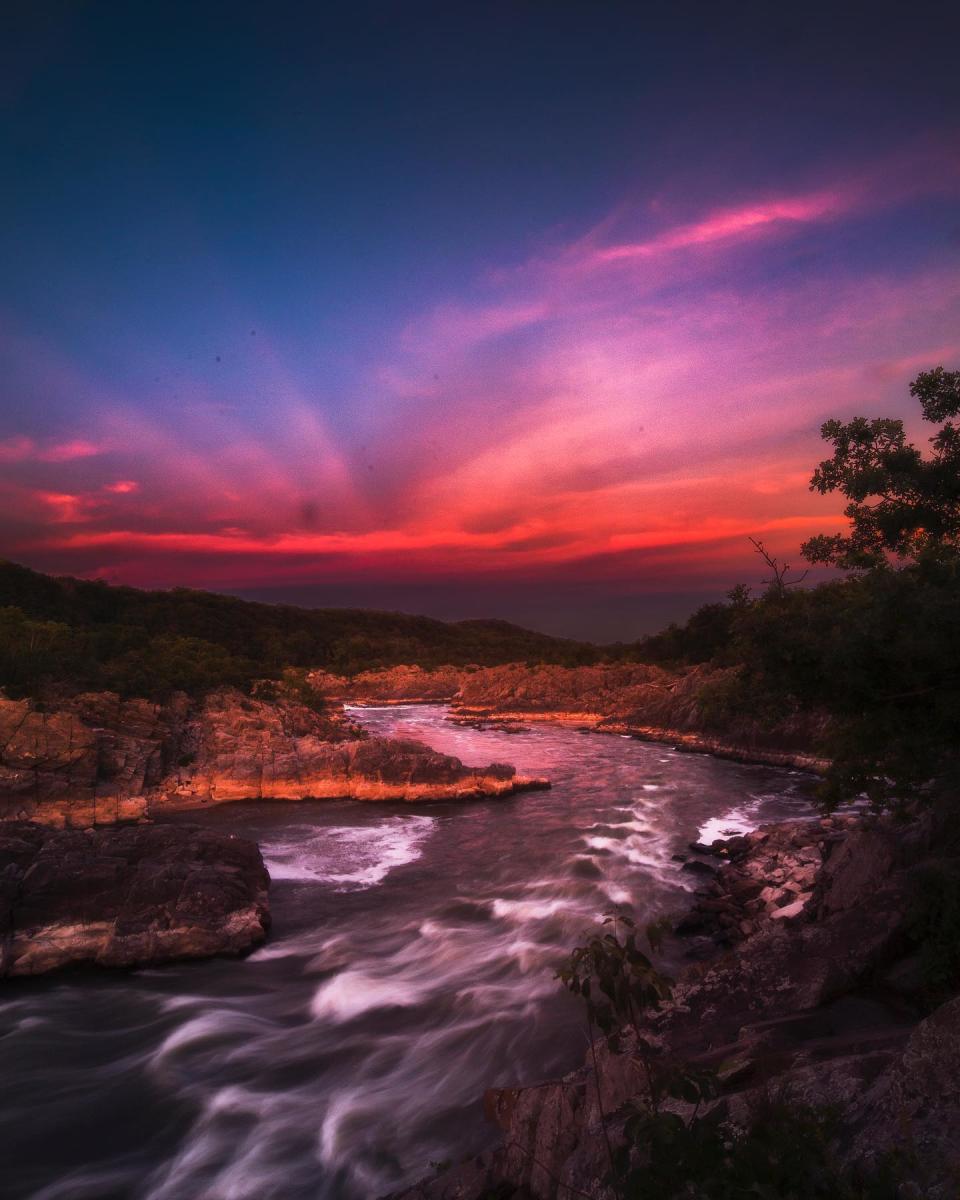 Great Falls Park, courtesy IG user @karzunn

Near Mount Vernon, you'll find the upscale Cedar Knoll restaurant with its extensive lawn offering sweeping views of the Potomac. This is a critically acclaimed, hidden gem of a restaurant, so make it part of your Mount Vernon trip. Also in the Alexandria area is Green Spring Gardens, a flowery spot in which to enjoy the day's end.
Another scenic dining spot is the rooftop lounge at Parc de Ville in Mosaic. Enjoy the pink skies while sipping on a negroni, supping on escargot, and spotting the people below.  
Finally, our breweries and wineries are great places to be as day turns to night. With outdoor movies and other evening events, the sunset won't be the only show at Paradise Springs Winery. Most of our breweries have outdoor spaces and many allow dogs, so you and Fido can enjoy the twilight together.
 

Sunset is beautiful wherever you watch it. But it's more than just a ball dropping down in the sky. Sundown is when the birds stop chirping and go to bed. It's when the waters go still. And the aura of sunset is profound, drawing the line between day and night, light and dark, loud and silent. This liminal time of the day can lower stress and quiet the mind. It's meditative. So pick a spot—any spot. And send your gaze toward the sky!