The Metrorail system is a great way for visitors to get around the Washington, DC metro area. You can stay more affordably in Fairfax County, for example, and be just a short ride away from the monuments and memorials of Washington, DC—no parking worries, no long walks, no getting lost. Plus you'd also be closer to the places the Metro doesn't take you by rail alone, like George Washington's Mount Vernon, the Workhouse Arts Center and Great Falls Park.
In July 2014, Metrorail opened the Silver Line and made the western portion of Fairfax County more accessible to all. And now, starting November 15, 2022, coverage extends out, bringing direct access to Dulles International Airport and beyond. So let's take a ride together on Metrorail's newest line and see all the golden opportunities it has to offer, from shopping to dining to nightlife!
Here's your ultimate guide on what to do and see along the Silver Line Metrorail, including where to park.
 
Key for stations:
B=Bus service; K=Kiss & Ride Lot; P=Nearby parking; R=Bike racks and lockers
Metro Stations in Tysons

The Silver Line track runs from Largo Town Center in Maryland and snakes through DC and Arlington, sharing routes with the Blue and Orange Lines. After the East Falls Church Station, however, the Silver Line takes a turn to the northwest and rides solo all the way out to Ashburn, Virginia. The first four stops after Falls Church are all in Tysons, the Mid-Atlantic's premier shopping destination, not to mention a major center for business and Fortune 500 companies. The four stops are compressed into about four miles, giving unprecedented access to this bustling urban area.
McLean Station—B, R
McLean Station gives you direct, walking access to Capital One Hall, where you'll find Broadway shows, concerts, and other live performances. On the 11th floor of Capital One Hall, you'll find The Perch, a rooftop garden with a Biergarten, a sculpture garden, putt-putt golf, a dog park, and more. The Watermark Hotel and The Archer Hotel are also serviced by this station, as are the Lost Dog Cafe and the newly opened Biergarten-within-shipping-containers, Shipgarten.
Tysons Corner Station—B, P, R
Wear comfy shoes, because this station brings you into the heart of Tysons with two malls and over 400 stores—Tysons Corner Center and Tysons Galleria are both within walking distance. There is even a handy pedestrian bridge to make them all easy to access. We're talking Tiffany to T-Mobile, one of the most diverse selections of brands in the US! You'll find food halls and some of the region's most beloved restaurants, from high-end fare like Fogo de Chao and Capital Grille to local favorites like Earls Kitchen and Patsy's American. If you are looking to stay a while, hotel options are abundant, including the swanky Ritz-Carlton and relatively budget-friendly Courtyard by Marriott. If Cirque du Soleil happens to be in town, this is also their Metro stop. Scattered throughout this part of Tysons, you'll also find some fabulous public art.
Greensboro Station—B, R
This station is home to The Boro, containing the Showplace ICON Theatre, public art, trendy restaurants, activities, and a constant calendar of events. A few blocks away, you can visit Freedom Hill Park, a former Civil War fortification-turned-family-friendly park. Nearby, there's the Vertical Rock Tysons Bouldering Center. And, of course, more shopping, but this time with big box stores like HomeGoods and Marshalls.
Spring Hill Station—B, K, R
The Spring Hill Station gives access to The PARC at Tysons and their shop-local Saturday Market and other events. There are great places to grab a quick bite from local restaurants, like District Taco and the Roaming Rooster. The 1st Stage Theater is nearby. And if you're headed to America's only National Park for the Performing Arts, Wolf Trap, this is the stop you'd take to catch a quick bus ride to your concert.
Metro Stations in Reston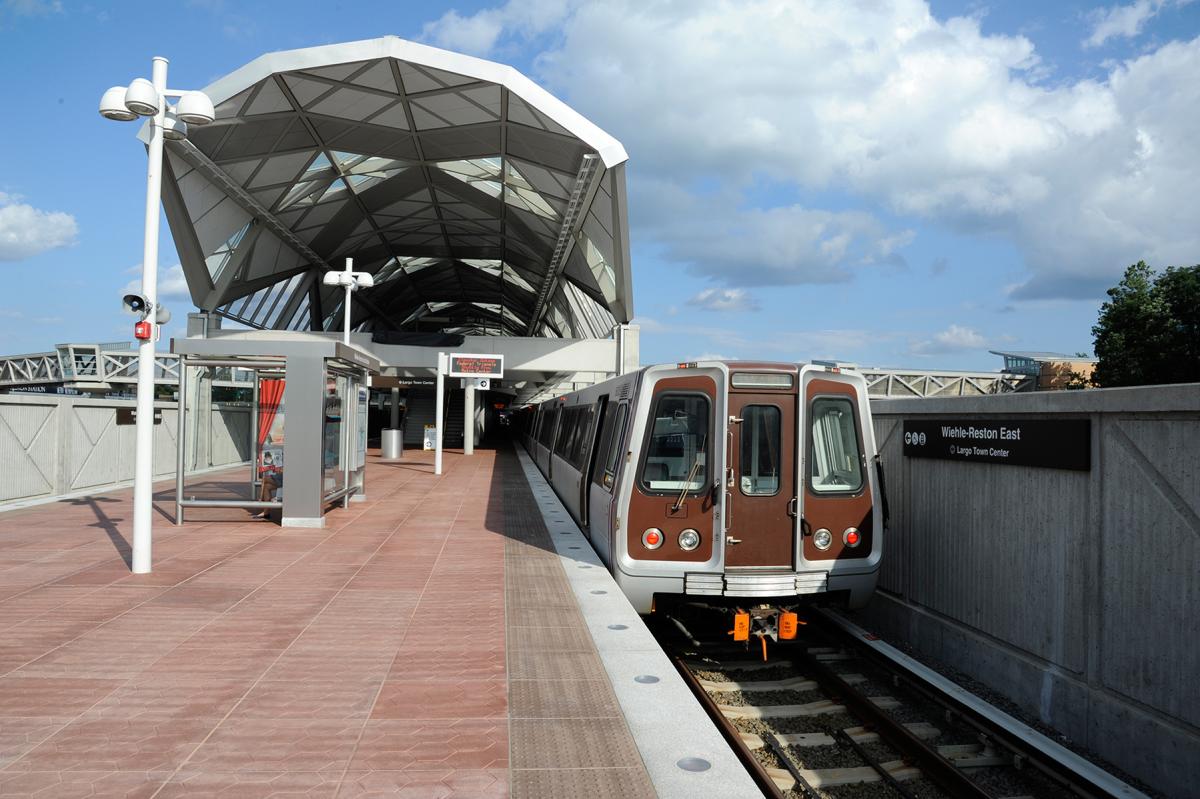 Founded in 1964 by Robert E. Simon (the RES in Reston), Reston is one of the first planned communities in America. You get a sense of the organization of the town, even now, nearly 60 years later. Reston has great shopping, destination dining, fabulous entertainment, public art, diverse housing, and unrivaled accessibility. These are the stops you take for a great night on the town.
 
Wiehle-Reston East—B, K, P, R
The Wiehle Station was Metrorail's first in Reston. As such, it can also be considered a hub for reaching other area destinations by bus, cab or Uber, including Great Falls Park, Colvin Run Mill, Lake Fairfax Park, Roer's Zoofari, and points in Reston, including Lake Anne Plaza with its coffeehouses, brewery, and trails. But it is also a great destination in and of itself with its own retail and dining destinations, like Founding Farmers, Matchbox, Best Buns, and more. There is also a huge digital shark tank screen on the plaza, a LOVEwork sign for selfies, and is now the home of Google! Nearby you'll also find Bike Lane Brewing, SkateQuest and the Reston National Golf Course.
Reston Town Center—B, K, R
Reston Town Center is a focal point in Reston, filled with shops like Anthropologie and lululemon, restaurants like Morton's the Steakhouse and Jackson's Mighty Fine Food, and attractions like the Tephra Institute of Contemporary Art, the St. James Performance Club and a seasonal outdoor ice skating rink. The Hyatt Regency Hotel is an anchor in the Center. Nearby, you'll find more at RTC West, including Cooper's Hawk Winery, Tiki Thai and Little Beast Café & Bistro. With W&OD Trail access, public art, and lots of exciting developments to come, this is the stop you make to get out and go do fun!

Metro Stations in Herndon & Dulles Area
Herndon offers the perfect balance of small-town charm and urban sophistication. This is where you'll find the county's technology corridor, the iconic Dulles International Airport, and the Smithsonian's National Air & Space Museum Steven F. Udvar-Hazy Center.
Herndon Station—B, K, P, R
From the Herndon Station, you can reach downtown Herndon by foot, bus, or cab to reach great downtown retail and favorite food & drink spots like Jimmy's Old Town Tavern and Aslin Beer Company. In the Sunset Park area, 1.4 miles away from the station, you'll find cool retail, Juicy Brewing Company, Le Vingt Trois Café & Bakery, Balaji Café, and the NextStop Theatre Company. There's also Runnymede Park, Herndon Centennial Golf, Frying Pan Farm Park, and a bazillion hotels nearby, including Courtyard by Marriott, Hyatt House, and Hampton Inn & Suites.
Innovation Center Station—B, K, P, R
This station's name gives a nod to all the technology companies in the area and is located adjacent to the iconic upside-down building. Nearby, you can visit Worldgate Centre, a large mixed-use development with movies, shops, restaurants, and the Worldgate Athletic Club and Spa. Restaurants accessible from this station include Hangry Joe's Hot Chicken, Ned Devine's Restaurant & Irish Pub, Mellow Mushroom, and Jodhpur Indian Restaurant. There's also Arrowbrook Park with its summer concerts. Looking for a hotel? Take your pick from numerous airport hotels including Hyatt Place, Homewood Suites, Embassy Suites, and more.   
Dulles Airport Station
This is the station you want if you are continuing on to Istanbul. Or China. Or anyplace else in the world. A pedestrian tunnel connects you to the main terminal at Dulles Airport, just like the Blue and Yellow Lines do at Ronald Reagan Washington National Airport. This is a boon to the region because it means business travelers are directly connected to the Tysons business corridor, Washington DC, and the entire metro area. You can also Uber, cab, or bus to the Smithsonian's National Air and Space Museum Steven F. Udvar-Hazy Center, which is home to thousands of air and space artifacts, including the Space Shuttle Discovery.
Loudoun Gateway and Ashburn Stations
These two stations are in neighboring Loudoun County and serve mainly as commuter routes, easing the daily commutes of those who live 30 miles or so outside DC. These stations have shopping nearby and other amenities.
Pro Tips for Using Metro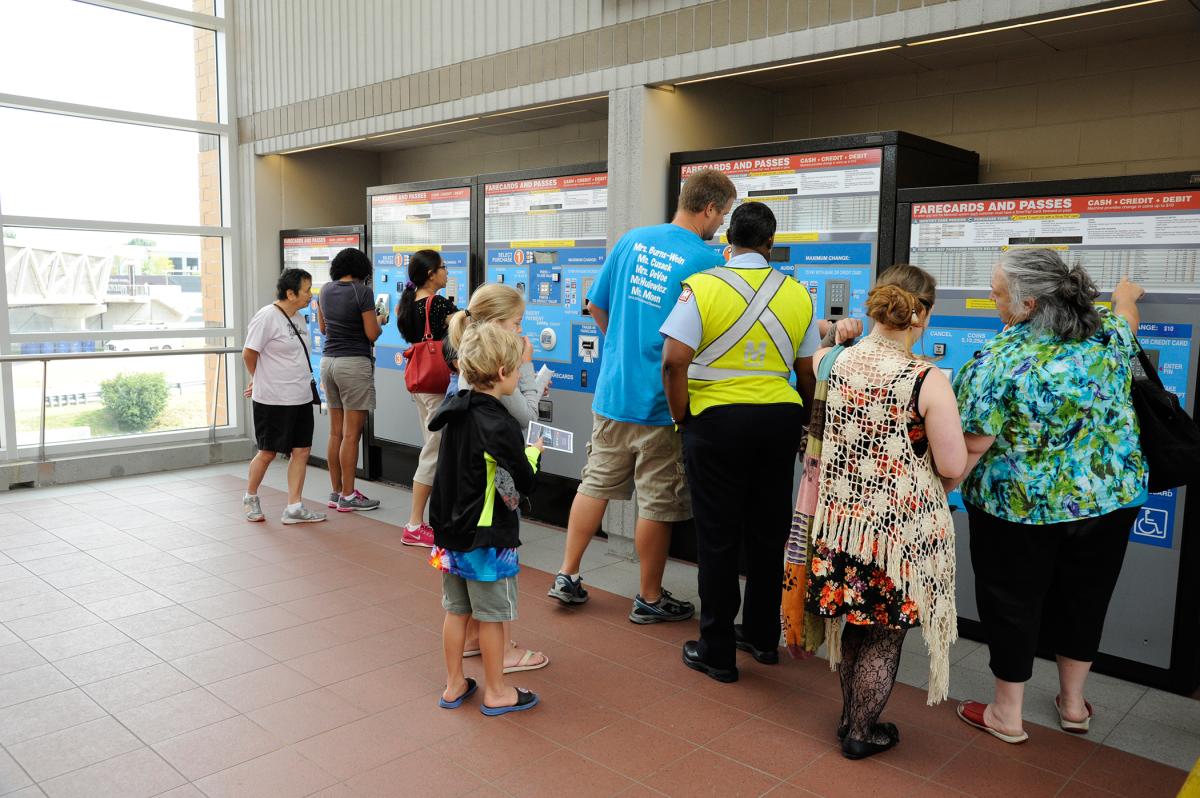 Photo by Larry Levine for WMATA
Here are a few helpful hints for using Metrorail: