Throughout Fairfax County, there are intriguing buildings and installations—structures that go beyond the ordinary and beg for your most dramatic poses and filters.
You won't find this tour in any guidebook, however. It is exclusive to our blog. So strap yourself in, set your camera lens to wide-angle and get ready to photograph yourself in front of some of the area's more notable structures.

Picture yourself in front of screaming architecture.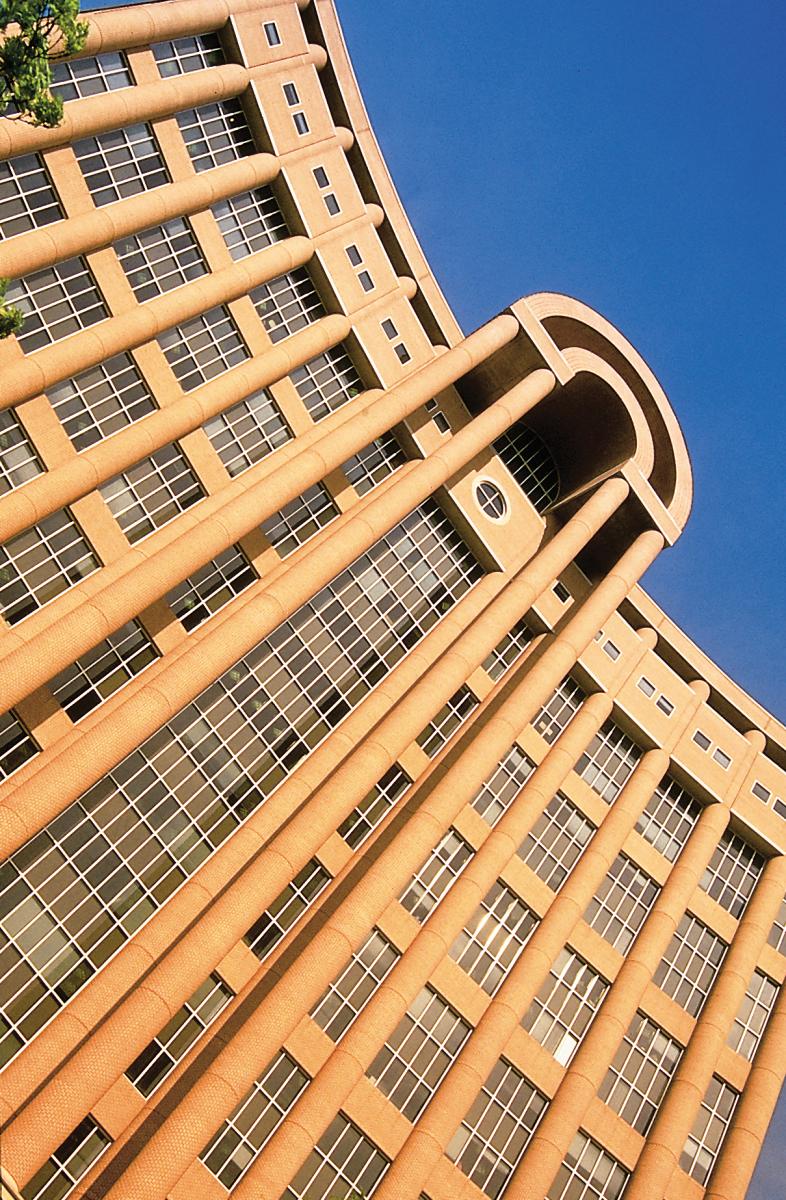 Image courtesy Fairfax County Economic Development Authority
Back in the 1980s when Tysons was beginning to emerge as a corporate center, architects were in a "screaming architecture" phase—a fad in which buildings were meant to be dramatic billboards, creating visual interest along commuter routes. And two of the most notable examples of this are in Tysons. One is Tycon Towers at 8000 Towers Crescent Drive. Known as the "shopping bag building," this 17-story, neo-Palladian tower is visible from the Beltway.  It bridges "Tysons the shopping destination" with "Tysons the business center."
But the most talked-about building is Tycon Courthouse. Once labeled the "ugliest building in Virginia," this building's shape has been likened to everything from a camera to even a toilet. The architect was inspired by geometric shapes.  He was less interested in what people called it and more interested that it was being talked about in the first place. It is still creating buzz 40 years later. Do your selfie in the circle at 2070 Chain Bridge Road and pop into popular restaurant Greenhouse Bistro & Tea Lounge for a cocktail or artisanal pizza – and stay for the nightlife!

Find a photo-op on the way to the airport.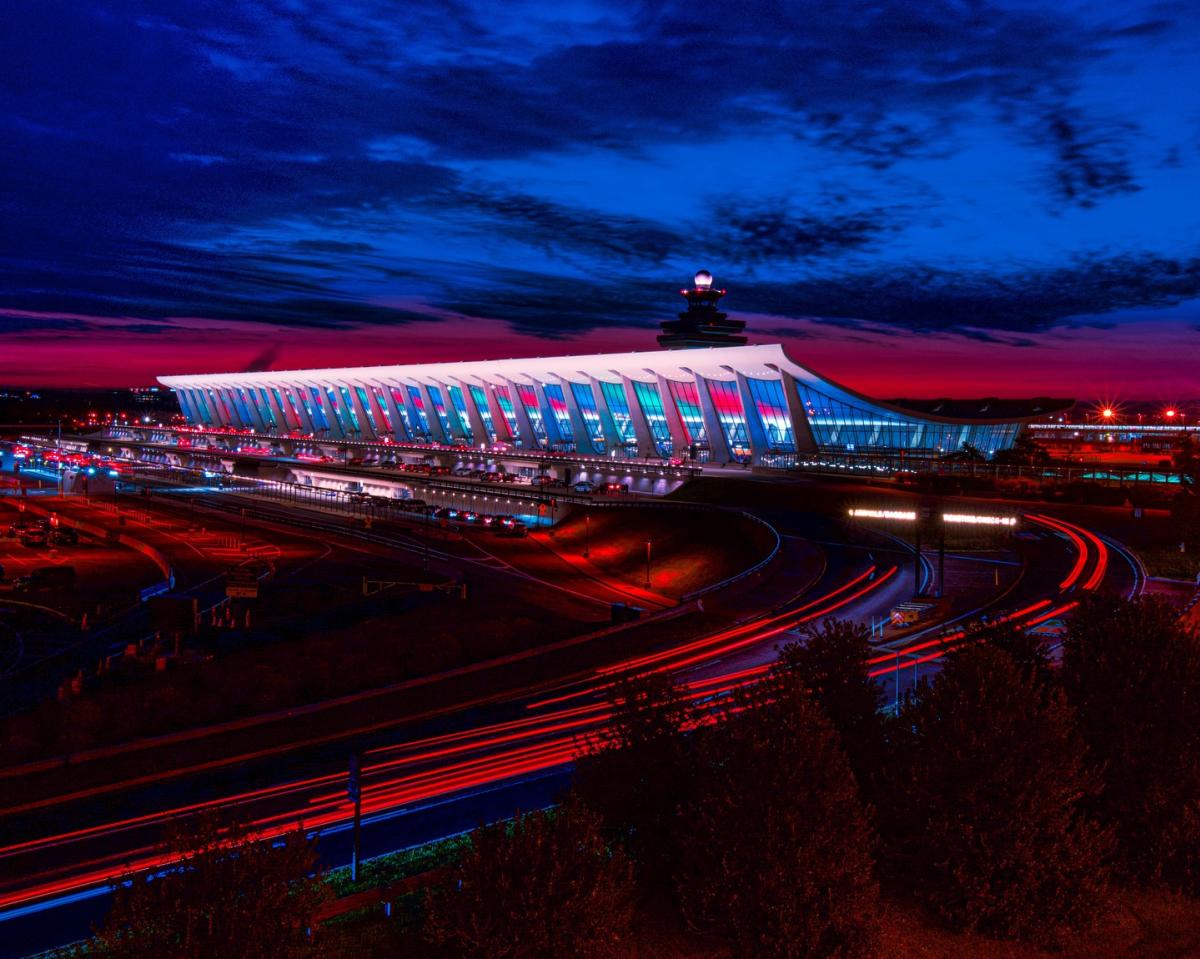 Image courtesy Instagram user @c_fukuda0001
Perhaps the most photographed structure in the National Capital Region that isn't in Washington, DC is the Dulles Airport terminal. With its soaring, wing-like form, famed architect Eero Saarinen designed a building that mirrored the excitement of travel. He also revolutionized terminal design by inventing the mobile lounge, a vehicle that takes you to your gate instead of making you traverse a vast terminal on foot to get there. Really, anywhere in the terminal or unusual mobile lounges is a good place for a pic. (For more unusual sites like the mobile lounges, check out this Atlas Obscura list!)
On your way to the airport, you may have noticed the building teetering upside down on the side of the road. 2214 Rock Hill Road has been home to the Virginia Innovation Partnership Corporation (formerly the Center for Innovative Technology), a state-run technology incubator and accelerator. The inverted pyramid design of the building reflects the deconstructivism movement and was chosen as a result of a national architecture competition.

Strike a pose of historic proportions.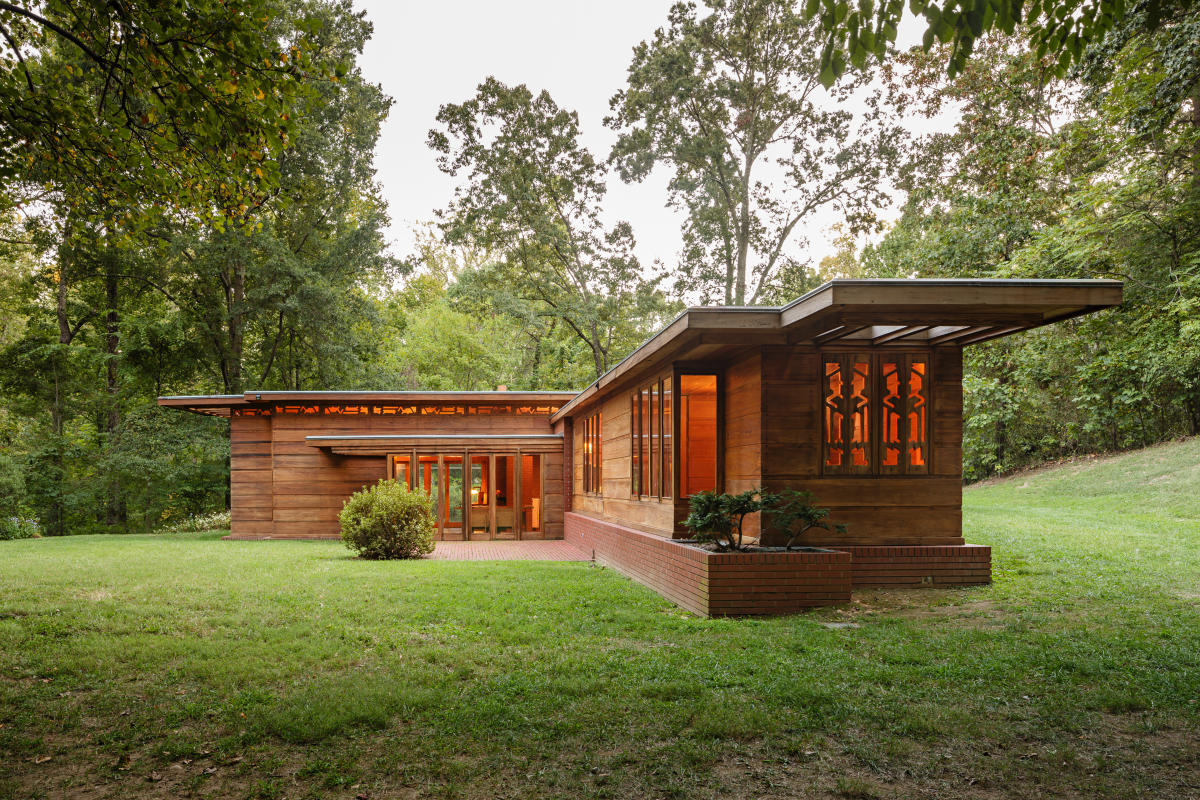 Image credit Lincoln Barber, courtesy Woodlawn & Pope-Leighey House
From George Washington's Mount Vernon and Gunston Hall to Woodlawn Historic Site, this region is filled with Colonial-era architecture so picture perfect it looks as fine as the day it was built. At Woodlawn, you'll also find a more modern Frank Lloyd Wright building for your period pics. And in between Mount Vernon and Woodlawn, you'll find one of the county's three historic, picturesque mills to put on film. But the cannons at the Historic Fairfax Courthouse get our vote for selfie time. Built in 1799, the courthouse is one of the oldest buildings in Fairfax and holds a trove of Civil War history, including being the site of the war's first Confederate casualty.

Take a mug shot before entering prison.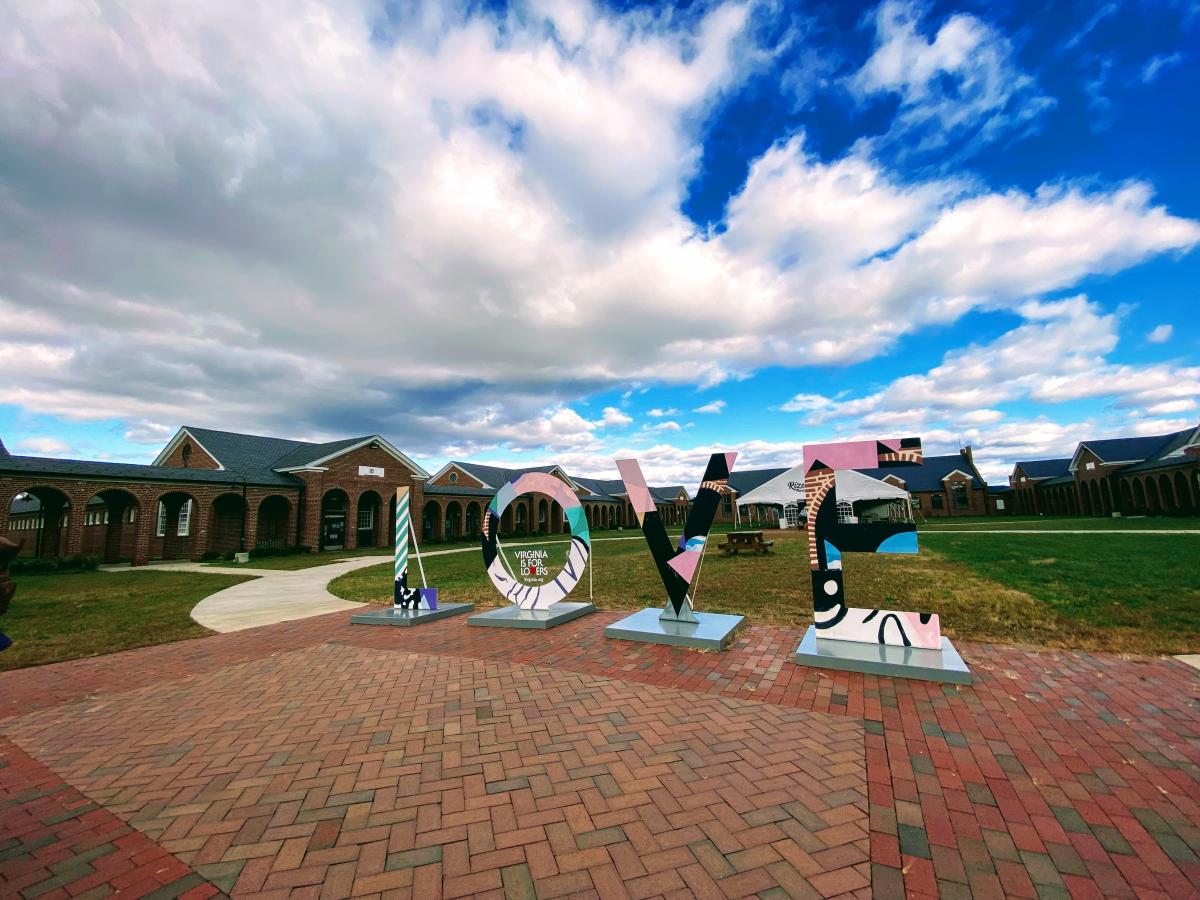 Once a federal prison, the Workhouse Arts Center is now an arts community filled with working studios you can browse and acquire art from. But it still has its prison bones. (In fact, the building's brick structure was assembled by former prisoners – the bricks themselves even kiln-fired in beehive brick kilns like the one still standing at Occoquan Regional Park!) The Workhouse campus is also home to the Lucy Burns Museum, which houses artifacts and representative cells. And there is a LOVE statue. What more could you want? Imagine all the great selfies you can take!
Hot tip: Want more LOVEwork selfies? Try this 2-Day Itinerary of LOVEwork statues across the region.

Snap shots of statues and stuff.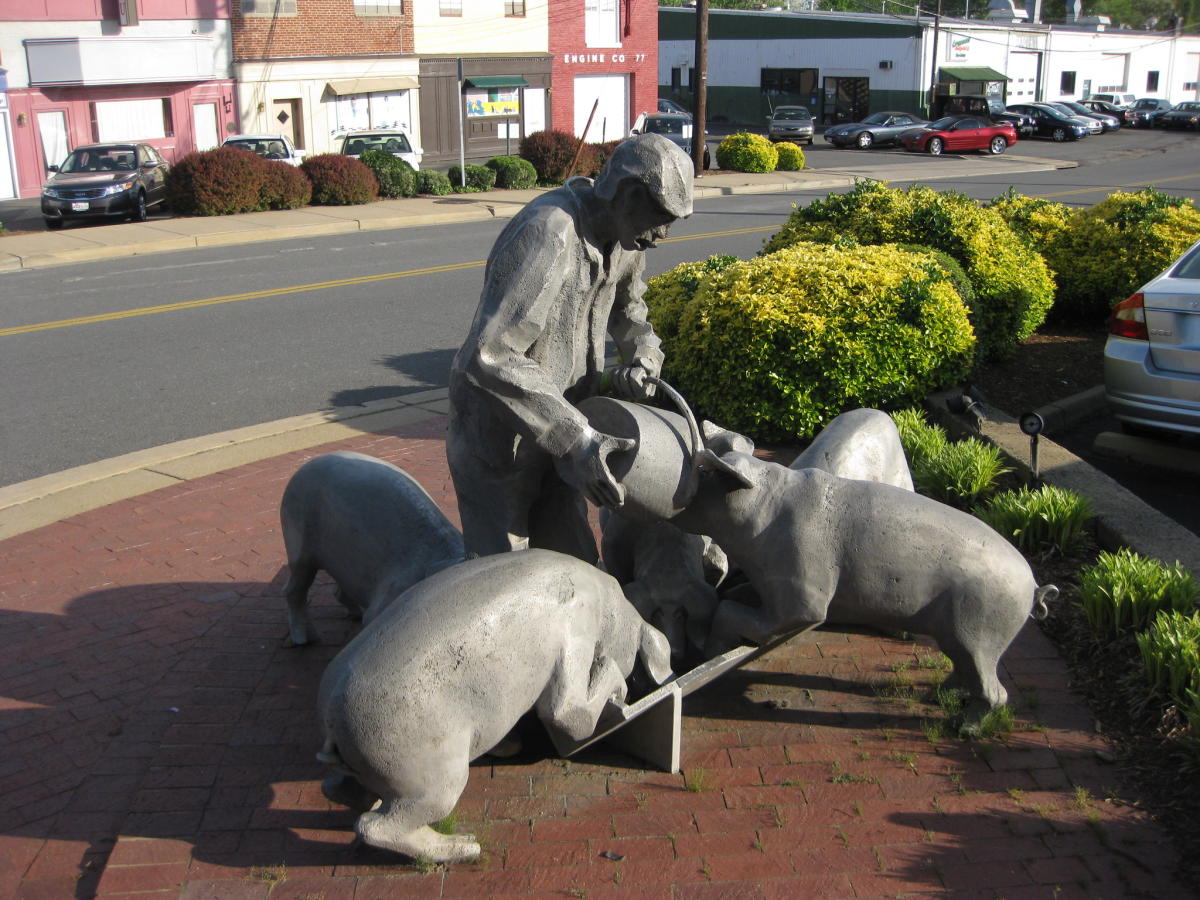 Image credit: Flickr user Mokaiwen/Katherine Bowman (Creative Commons)
Hidden in Don Beyer auto dealerships throughout the region, you'll find some interesting statues to selfie with. Like the man feeding pigs at Don Beyer Volvo in Falls Church or, oddly, the man eating dog food across the street at Don Beyer Kia. There are also a set of bronze feet standing at Don Beyer Subaru in Alexandria. As a point of interest, Don Beyer is a former Lt. Governor of Virginia and a current Congressman for Virginia's 8th District.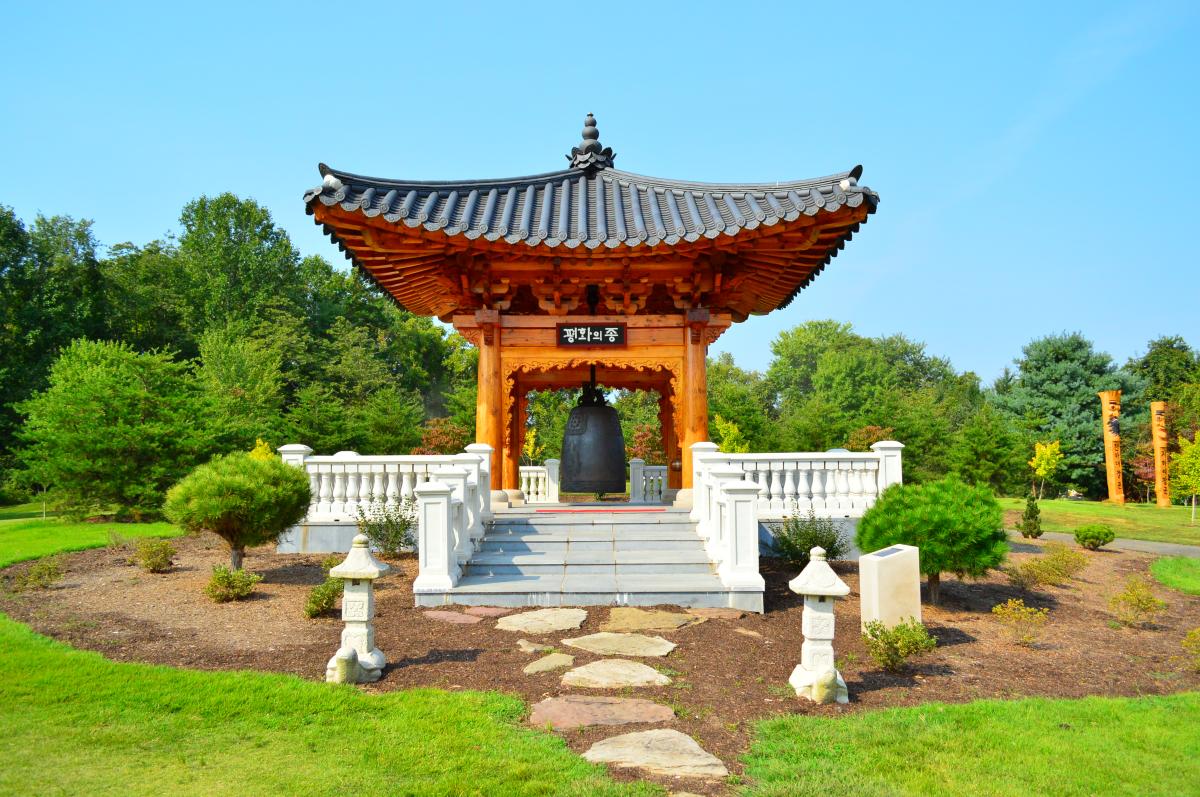 When it comes to public art, Reston is also a great spot for artsy selfies. You can even take several self-guided walking tours at Lake Anne Plaza and Reston Town Center. In Vienna, a shot of the 3-ton Korean bell at Meadowlark Botanical Gardens is a rare find. Another fun shot is the flood marker outside Overlook 3 at Great Falls Park that shows how high the water has gotten over the years. It will blow your mind. But one of our favorite selfie spots (Is it art? Is it advertising? Is it whimsy?) is the giant watering can at the Holly, Woods and Vines garden center at 8453 Richmond Highway in Alexandria.
Now, these are just the more architecturally inspired selfie spots we recommend. For even more photo-worthy ideas, check out one of these Most Instagrammable Spots in Fairfax County or take a self-guided tour of Mosaic District's colorful murals. If you're touring Northern Virginia, you'll find hundreds more frame-worthy finds in our parks, historic sites, museums, wineries and breweries (like the Bunnyman!). So clear a spot in your phone's memory and bring your selfie stick! You're going to have all sorts of photo fun in Fairfax County! If you find a spot we missed, let us know about it in the comments below or on social media using @VisitFairfax and #FXVA.