If you like getaways, you'll love Fairfax County. Residents such as myself are truly fortunate to live in such a diverse region as Fairfax County. With Washington, DC to our east, the mountains to our west, and the ocean even further to our east, we literally have something for everyone and every interest. Even you. Really.
Maybe you study sleepy insects. Seek out unconventional fun. Admire public art. Are intrigued by stories of espionage. Or take your canine friend with you everywhere. From a pure and simple admiration for flowers to an obscure obsession with mystical, prehistoric monuments, Fairfax County has something to speak to your passions and oddities. So embark on an adventure that is right up your alley! Check out the diverse attractions below!
If You Like Action Figures, You'll Love...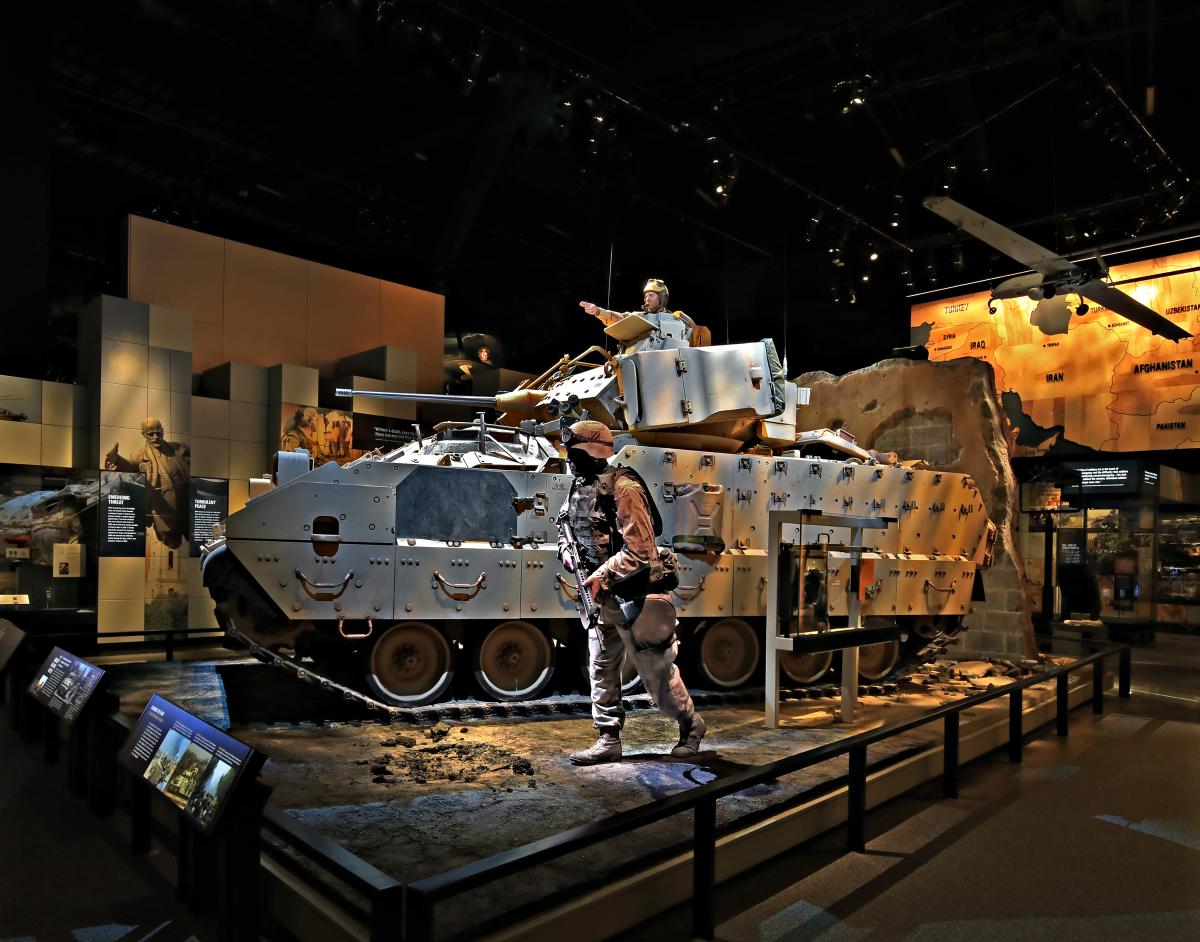 Photo Courtesy National Museum of the United States Army
Telling the heroic history of real-life GI Joes. The Museum is the first comprehensive and truly national museum to capture, display and interpret the Army's history by telling stories through the eyes of Soldiers. Its displays and interactive learning exhibits illustrate the Army's role in building and defending our nation, as well as Army humanitarian missions and technological and medical breakthroughs built on Army ingenuity.
If You Like Banksy, You'll Love...
Historic Blenheim is famous for its graffiti! Blenheim is an attractive c.1859 brick farmhouse perched atop a grassy hill. Blenheim is nationally significant for the more than 120 Union soldier signatures, drawings, and poetry inscribed on the interior walls. The "diary on the walls" provides insight into typical soldier life during the Civil War. Check out this 360-tour  to see one of its attic rooms covered in graffiti!  
If You Like Destination Dining, You'll Love...
A nationally top-ranked gem in a pastoral setting. A charming French country inn, L'Auberge Chez Francois features Alsatian cuisine and old-world charm. Chef de cuisine Jacques Haeringer now mans the helm of this Washington D.C. legend, established decades ago by his father, Francois Haeringer. French classics like tasty onion soup and chateaubriand can be found here, along with a few modern twists. Check out this video for a quick jaunt into the countryside.
If You Like Prison Art, You'll Love...
The Workhouse Arts Center is a massive adaptive reuse project which re-purposes the former Lorton Prison into a remarkable arts center providing 300 performances, 100 visual arts exhibitions in 12 gallery spaces, 800 classes in visual arts, performing arts, culinary, and Art of Movement, and supports the art and studios of 85 professional artists. And don't think the site shies away from its past as a correctional facility: the new Lucy Burns Museum details 91 years of prison history, as well as the story of the women suffragists who were imprisoned there. 
If You Like The Bill of Rights, You'll Love...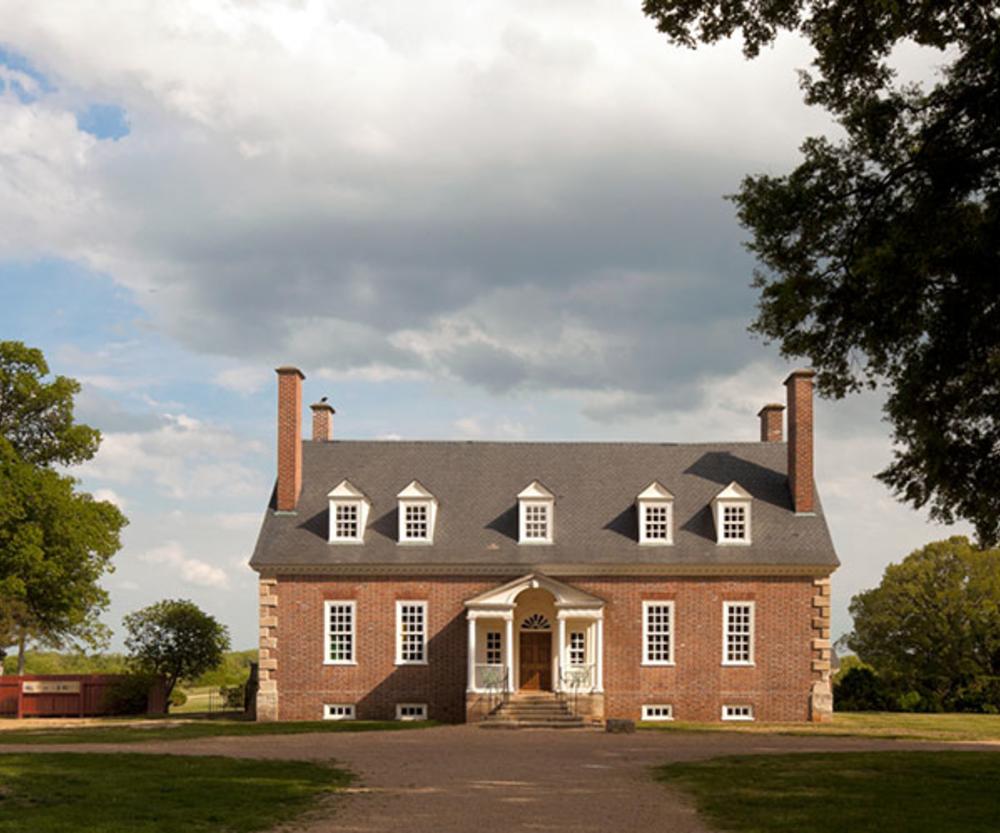 Photo Courtesy Gunston Hall
A founding father whose words defined a nation. Gunston Hall, completed in 1759, was the plantation home of George Mason, one of the Founding Fathers of the United States. Mason wrote the Virginia Constitution and the Virginia Declaration of Rights on which the U.S. Bill of Rights was based. His home is an outstanding example of Georgian architecture and is highly regarded for its elegant interiors. 
If You Like Eclectic History, You'll Love...
Washington's pews, an ancient font, and Civil War ballooning. The outbreak of the Civil War brought devastation when occupying Union forces stripped the building's interior for souvenirs of "Washington's Church" and used its worship space as a stable. Soldiers scrawled their names on the inside walls, carved graffiti onto the doorposts, and pockmarked the exterior with bullet holes. 
If You Like Memorable Experiences, You'll Love...
From July 4th fireworks to headlining concerts. Our robust event calendar features a host of upcoming events in Fairfax County and the greater Washington, DC area. Get in on all of the fun! 
If You Like Sports on Steroids, You'll Love...
The state-of-the-art facility combines expansive turf fields, two ice rinks, an Olympic-size swimming pool, gleaming hardwood courts, and more, all under one roof. At 450,000 square feet, there is plenty of room to play. With trampolines, obstacle courses, virtual reality gaming, a water park, the adventure never stops. 
If You Like Colonial Times, You'll Love...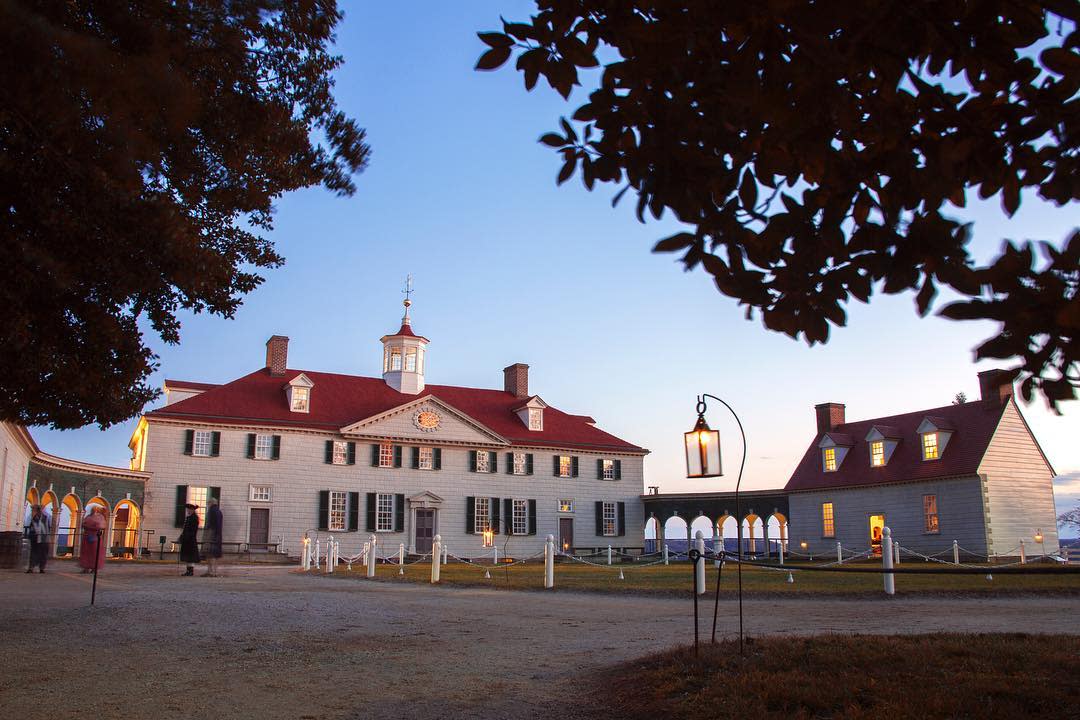 Photo courtesy Virginia Tourism Corp.
America's most visited historic home and estate. Discover the real George Washington at Mount Vernon! Learn about Washington's life, from his boyhood to his wartime service, agricultural entrepreneurship, and his presidency. Tour the beautifully restored mansion, four distinctive gardens, and get a glimpse of Mount Vernon's working farm. In fact, we pulled together 10 Ways to Experience Mount Vernon right here, so it's easier than ever to plan a visit.
If You Like One of a Kind Finds, You'll Love...
Feast your eyes on one of the hidden treasures of Fairfax County, especially with its authentic Korean Bell Garden. This public and traditional Bell Garden pavilion is the only one of its kind in the Western Hemisphere and is a symbol of the friendship between Virginia and South Korea. Along with the Bell Garden, a picturesque gazebo and three sparkling lakes surrounded by weeping cherry trees and a profusion of colorful blooms grace the 100-acre park. 
If You Like the Good Life, You'll Love...
Fairfax County is home to two historic and beautiful vineyards - Paradise Springs Winery in Clifton, VA and The Winery at Bull Run in Centreville, VA. Considered by many to be the "Gateway to Virginia Wine Country," these wineries are the closest to Washington, DC and are home to a selection of some wonderful, award-winning Virginia wines. Also, pick up some additional Virginia wine at the Woodlawn Press Winery, an urban winery along Richmond Highway. 
If You Like Peace, You'll Love...
As it were, some of the best wildlife watching in the Washington area can be enjoyed here. The half-mile boardwalk trail and observation tower offer visitors excellent views of beavers, frogs, dragonflies and herons. Huntley Meadows is well-known as a prime birding spot with more than 200 species having been identified in the park. Get a sneak peek in this video.
If You Like Equal Rights, You'll Love...
Now open! The Turning Point Suffragist Memorial is a brand new national landmark that pays tribute to ALL the women who fought during America's women's suffrage movement. Replica White House gates, 19 educational stations, a reflection garden, and more grace this integral site for women's history in #FXVA.  
If You Like Cultural Cuisine, You'll Love...
Our diverse region produces flavors from around the globe. From Annandale's Korean BBQ scene to the Ethiopian Eats peppered throughout the county, we promise you'll find the cuisine you're looking for. 
If You Like Slack-Jawed Wonder, You'll Love...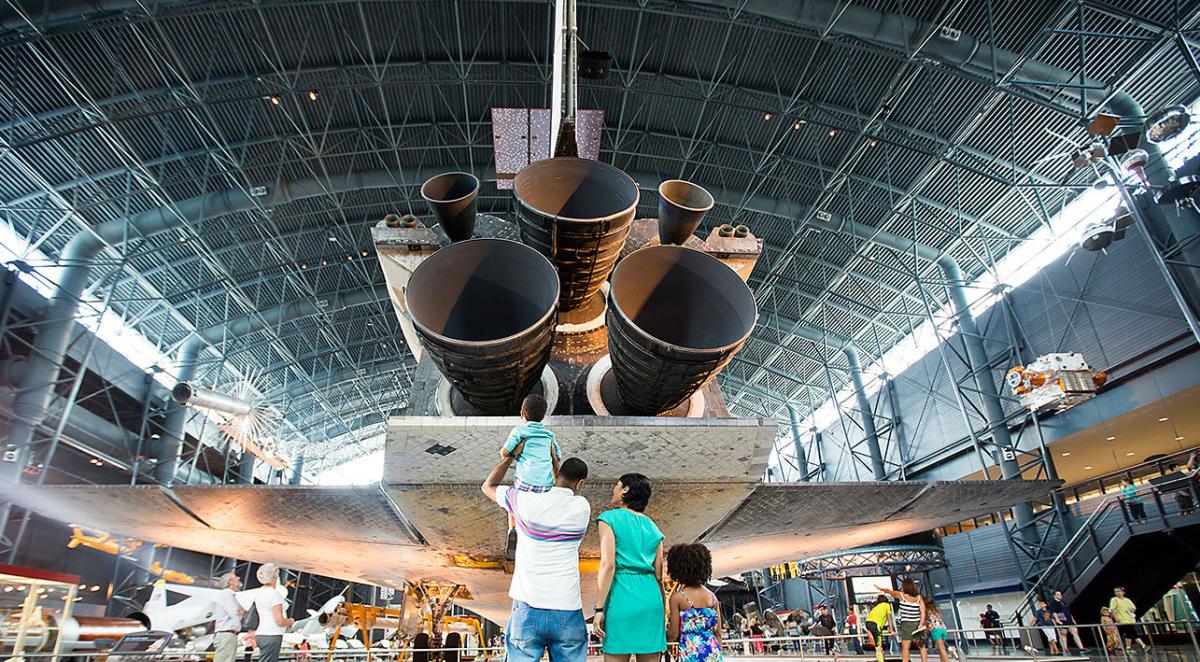 Any "space geek" that steps into the McDonnell Space Hangar will feel like a kid in a candy store when they get up close to the Center's collection of space artifacts, including Space Shuttle Discovery, the Apollo 11 Mobile Quarantine Facility, space suits, rockets, satellites, and space toys (just to mention a few things). And for the Star Wars fans out there, stop by soon to see Poe Dameron's X-wing Starfighter while it's undergoing preservation work in the Restoration Hangar.
If You Like Frank Lloyd Wright, You'll Love...
Frank Lloyd Wright's Pope-Leighey House stands as a classic example of Usonian architecture, a style intended to be both affordable and distinctly American. The house was in the path of an expansion of Interstate 66, so in an effort to preserve the building, Mrs. Leighey gave the property to the National Trust, which relocated it to nearby Woodlawn and granted her lifetime tenancy.
If You Like Whiskey, You'll Love...
Did you know...you can get your hands on George Washington's whiskey to take home with you? One of the most coveted bottles of whiskey on earth, our former president's signature rye whiskey - which, as of 2017, is now the Official State Spirit of the Commonwealth of Virginia - is still being churned out at his Distillery and Gristmill.
If You Like Road Trips, You'll Love...
Scenic. Convenient. Hassle-free (relatively). The George Washington Memorial Parkway (GWMP) is, hands down, one of the best drives in Northern Virginia. You don't even need a destination. It IS the destination—especially in fall when the leaves turn brilliant colors against the backdrop of limestone monuments and in spring when redbuds, cherry blossoms, and daffodils come out to play. Here are a few of the best stops along the way.
If You Like Nature's Wonders, You'll Love...
Photo Courtesy Roger Lee Katzenburg
For a peaceful hike, a family outing, an exploration of the area's rich history, or all of the above, the 800-acre Great Falls Park is a can't miss. Great Falls Park features extraordinary views of the Potomac River and Great Falls, along with 15 miles of hiking trails, and five miles of horseback riding and biking trails. The Great Falls area of Fairfax County is also particularly scenic - here's an itinerary for a great road trip around the area.
If You Like Cucumber Water, You'll Love...
Pampering treatments from cryotherapy to poultice rooms. Rejuvenate your mind, body, and spirit as you need to at one of our state-of-the-art spas. You're welcome.
If You Like American Bald Eagles, You'll Love...
Established on February 1, 1969, Elizabeth Hartwell Mason Neck National Wildlife Refuge was the first national wildlife refuge established specifically for the protection of our nation's symbol, the bald eagle. Today, the 2,276-acre refuge encompasses approximately 2,000 acres of mature hardwood forest, the largest freshwater marsh in Northern Virginia, and nearly six miles of shoreline. This national refuge is thanks to one local woman's tenacity in a fight for preservation. Read her story here.
If You Like Togetherness, You'll Love...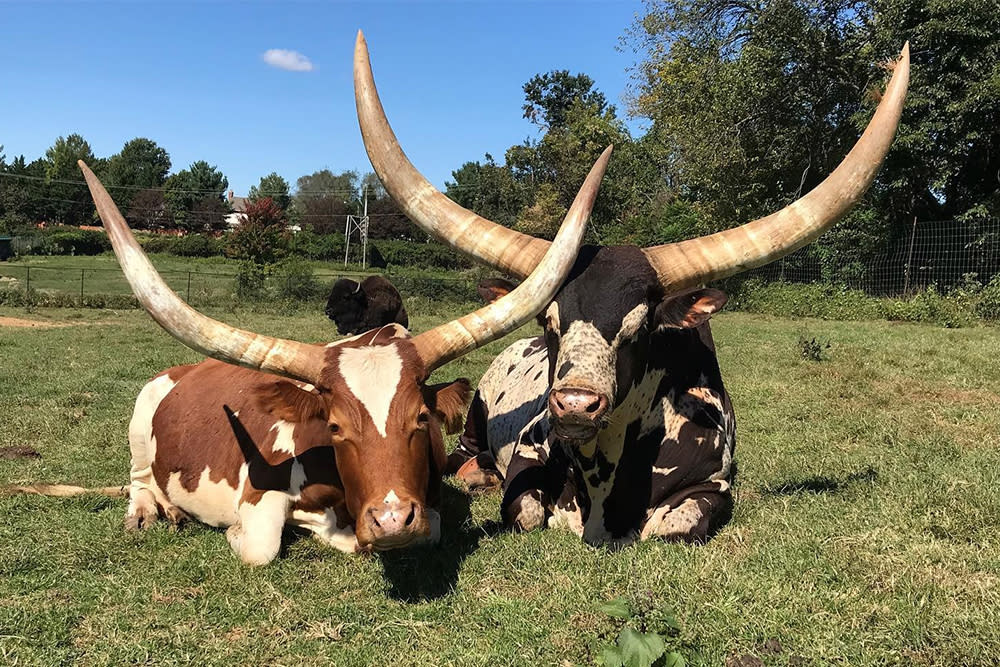 See macaws, watusi and python as a family unit. Roer's Zoofari provides opportunities for visitors to discover and connect with animals through educational encounters and hands-on interactions. You can walk and drive-through different sections of the zoo! 
No matter what you like, you'll find something to love on your visit to Fairfax County. Where will you visit on your adventure? Tag us on social using #FXVA and @VisitFairfax so we can follow along!